thermocron_ibutton_manager
Table of Contents
Thermocron iButton Manager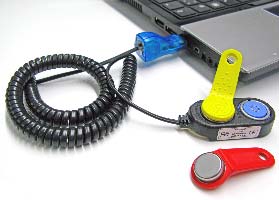 Thermocron iButton Manager is a set of bash-scripts providing simple tools and even a simple user interface for managing and setting up Thermocron iButtons and to extract and visualize the logged data.
Thermocron iButton Manager has been developed and tested mainly in an Cygwin™ environment.
Currently supported features
Set up logging with user defined interval (1..255 minutes)

Set up logging mission with user defined delay (0..1092 hours)

Toggle log rollover

Show status including the iButton's memory content

Set iButton's memory content

Stop logging mission

Extract logged data, save it automatically to a plain text file in a predefined path, create automatically a temperature graph
Quickstart - finds all connected Thermocron iButtons and starts a logging mission on all of them immediately. No log rollover, no delay, logging interval 1 minute.
Relies on
Screenshots
Download
You can download the sources from GitHub tcibm-repository by issuing the following command
git clone git://github.com/clemens-it/tcibm
To plot graphs from the logged temperature data RRDtool is used. Make sure it is installed in your *nix environment. For Cygwin go to the RRDtool Download page and download the windows binaries (look for "Primary Distribution Point", link "Stable Release"). Extract the zip-file (e.g. rrdtool-1.2.30-win32-perl510.zip) - you will find the rrdtool.exe binary in the subfolder data/rrd2/rrdtool-1.2.30/Release
Further notes
1-Wire is a registered trademark of Maxim Integrated Products, Inc.

Linux is a registered trademark of Linus Torvalds.